New range
New and additional air capacities for AF range of compressors. Increased air volume for same power!
Energy Savings
AF is synonymous with reduced energy consumption. AF simple design naturally leads to savings, with fewer parts and low speed. Bringing up  the lowest energy consumption on the PET market.
Various additional solutions are packaged to increase the energy savings.
Costs Savings
Total Cost of Ownership & Life Cycle Management  fully under control on the long term. The most simple mechanical design naturally brings the lowest maintenance costs. Energy and maintenance savings are the best on the short AND longer run.
Worldwide specialist
AF is offering the Best 40 bar oil Free PET Service with its worldwide organisation.
AF main factory is located in Liege Belgium.
AF ' Sister's company for the After Sales Head Office and major Spares Shops separate from the factory is 100% dedicated to the after sales activity. CSP S.A. in Alleur / Liege Belgium
Every subsidiary worldwide, from Shanghai to Mexico offers a local Spares Shop and local Service Engineers…
Find your local contact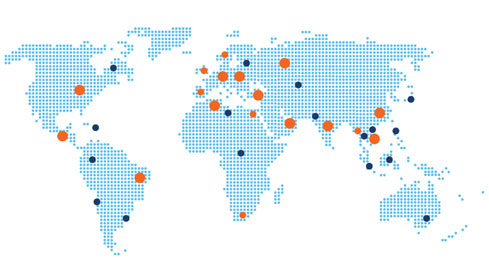 Last News
New reciprocating 3 stage oil-free piston PET compressor. AF RANGE.  Model : L9, nominal capacity  3300 m³/h FAD.
All news