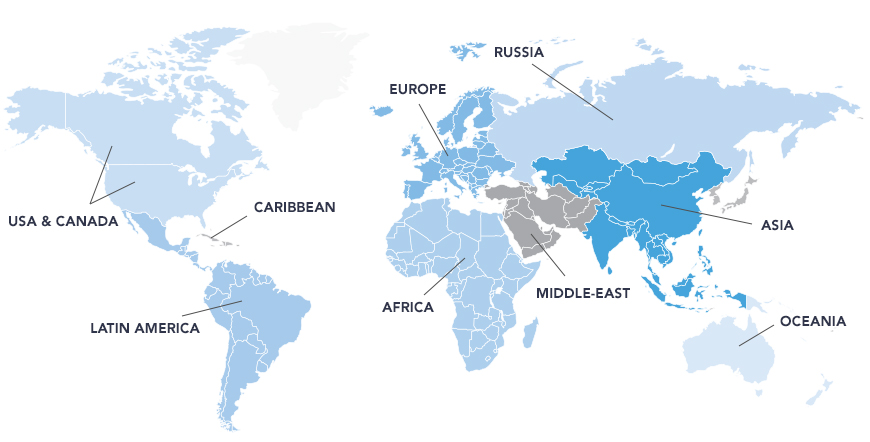 USA & Canada : 500
Latin America : 450
Caribbean : 120
Europe : 1500
Russian Fed : 330
Africa : 1150
Asia : 2600 
Middle-East : 1100
Oceania : 60
+ 7800 oil free compressors in the world
EVERY DAY, ONE AF COMPRESSOR IS SHIPPED SOMEWHERE IN THE WORLD.
Every day for the past 10 years someone, somewhere in the world, has taken delivery of a new AF Compressor.
Ateliers François S.A., the privately owned company which roots go back to 1870, AF Compressors, is the leader in the manufacturing of oil-free compressors specifically designed for the needs of PET bottle production. Our share of the blow mould market is estimated at 60%, AF produces 400 units a year, 90% of which are destined for the PET blow moulding applications. Our client list includes AB Inbev, Heineken, Coca-Cola, PepsiCo, Danone, Nestlé Waters, Ting Hsin, as well major and various blow mould machinery manufacturers, KHS, Krones, Sidel- Tetra Pak, Sipa, Serac, One Blow…
Today AF counts more than +7800 oil free compressors in more than +185 different countries.
Many customers, in various industrial applications.
NOT ONLY PET COMPRESSORS, IN RESPONSE TO CUSTOMER: 8 bar and 10 bar oil-free air
AF has diversified its product portfolio in response to customer demand, to included 2 stage, oil-free, piston compressors providing 8 bar & 10 bar oil free air utilising the same design and turn-key package. The OPC series with capacities from 7,2 m³/min up to 58 m³/min. AF counts hundreds of OPC references in the beverage industry, AB Inbev, Danone, Coca-Cola, PepsiCo, Nestlé waters…This oil-free technology is also successfull in various other applications such as food industry, (Puratos) specific industrial application (Sadaci, Tessenderloo Chemie) Petrol and gaz industry, Egypt oil Company… AF Compressors are sustainable for decades.