Ateliers François S.A. THE WORLD LEADER OF PET COMPRESSORS. INNOVATION & TRADITION since more than 150 YEARS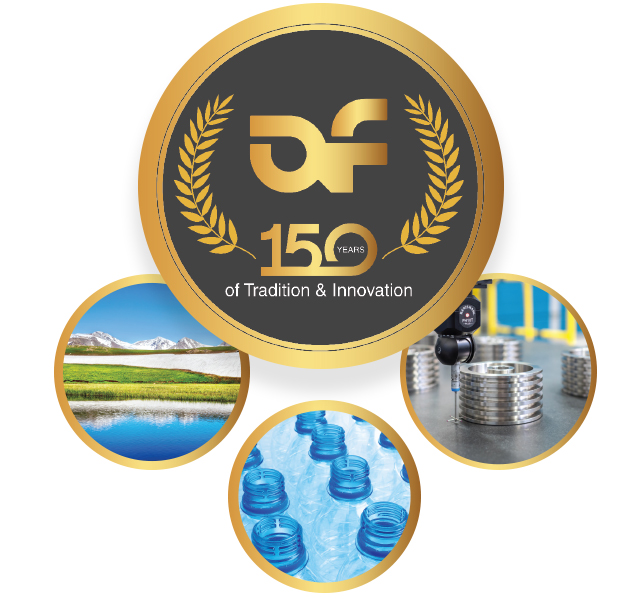 OIL FREE PISTON COMPRESSORS
THE WORLD LEADER OF PET COMPRESSORS
Dated 1870, the story on 3 different centuries.

With the emergence of the PET industry in the early 1980's along with a constant Research & Development philosophy, and thanks to our numerous subsidiaries, our customers are today benefiting of all this experience in over 185 different countries throughout the world.
Our customers and references are the most renown blow molder manufacturers, engineering offices, the mineral, spring and drinking water providers as well as the major soft drinks producers… Juices, breweries, edible oil, milk , and all other existing PET applications, Food or Non Food industries, for high and low (medium) pressure applications of which + 500 units low pressure 8 bar & 10 bar oil free piston compressors are installed in the world.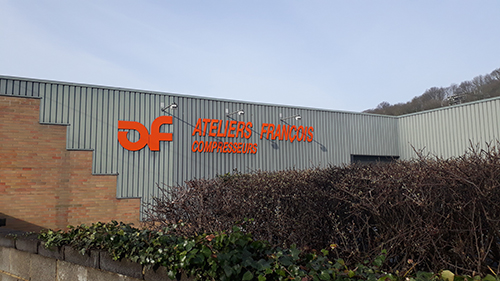 2023
Since more than 150 years. Ateliers François, Sclessin, Liège, Belgium
Af is a manufacturer of oil free piston compressors with ca. 60% share of the world market of compressors dedicated to the PET Bottling industry. AF compressors has been celebrating the 150th anniversary of the group. AF counts + 7800 compressors in the world. + 15 Companies, 3 productions centers, 5 training academies, 2 distribution centers, more than 20 official agencies with spare part shops and more than 150 specialized skilled technicians for oil free reciprocating compressors, for high or low pressure (20-40 bar, or 8 bar and 10 bar).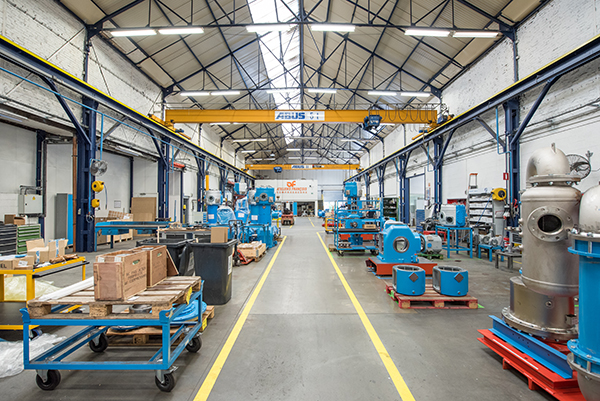 AF Middle-East FZE,
Dubai, UAE.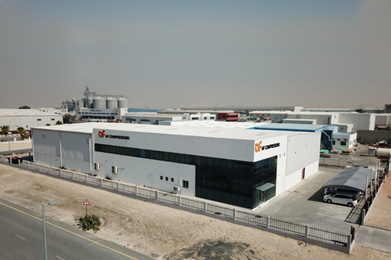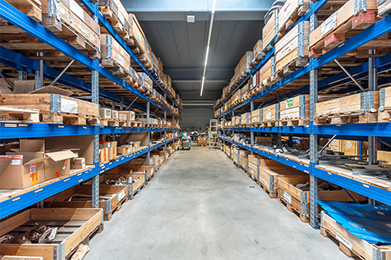 Service AF Head Quarters,
AF, Alleur, Liège, Belgium.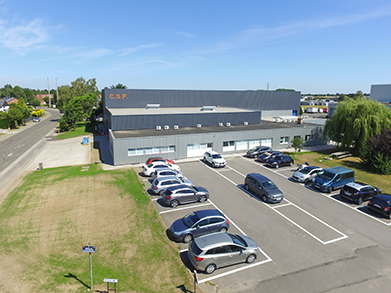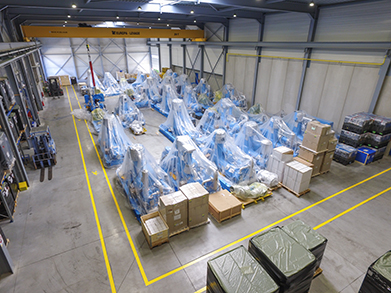 2019
Innovative mechanical engineering for the new oil free piston reciprocating air compressor OPC-110
8 bar or 10 bar (116 Psi or 145 Psi) 110 kW, 20 m³/min (706 CFM) @ 7 bar (116 Psi).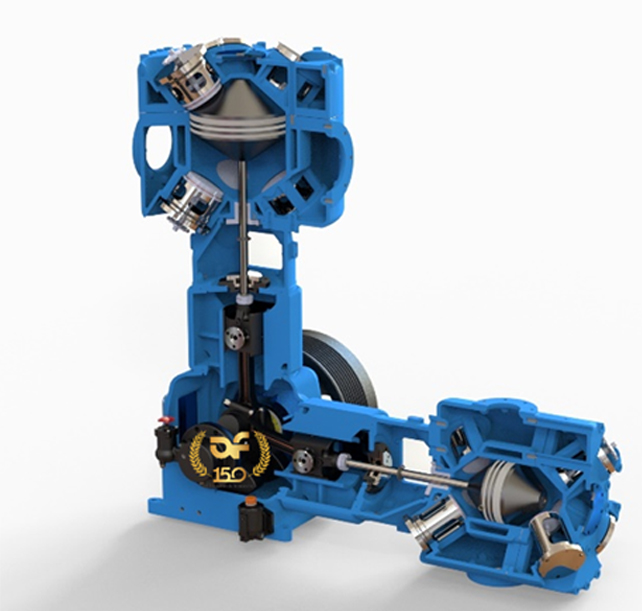 2017
At drinktec exhibition in Munich, Germany, AF Compressors is not only present with its own booth, but also and especially, AF shows its undisputed leadership in the PET compressor market by providing 8 different running oil free PET compressors to not less than 8 different blow-molding manufacturers during the drinktec Munich show in September 2017. A true case story for logistics and service skills achieving 8 different start-up commissioning on the same time, providing local service and successful assistance during the whole biggest beverage industry show.
Munich drinktec show 2017
AF Compressor running for one of the 8 Blow molding manufcaturers in Munich drinktec show 2017.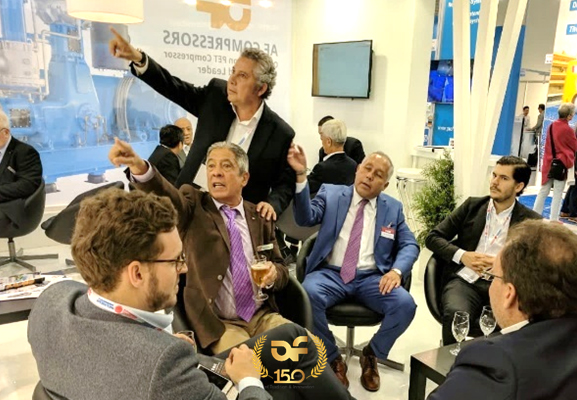 Munich drinktec show 2017
Business in Passion on AF Compressors booth at drinktec Munich 2017.
2016
Hana Water Factory in Saudi Arabia, Al Qassim, sustainable AF Compressors being installed for production in severe climate conditions.
On this occasion AF officially launches the innovative Smart Inverter Starter (SIS), frequency inverter device to start a compressor with a starting current far below nominal current. A true and unique innovation on the whole compressor market. For more information on SIS ee our page innovation or product.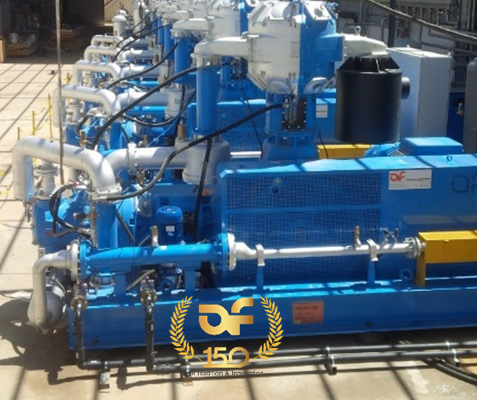 2015-2010
AF develops its newly designed L Range, in parallel to the CE Range, for the 20-40 bar PET Compressors, with Heat recovery system. In parallel continuous improvements are achieved on compressors for lower pressure applications to include two-stage, oil free piston compressors dedicated to various industrial applications. OPC Range, 6-15 bar compressors.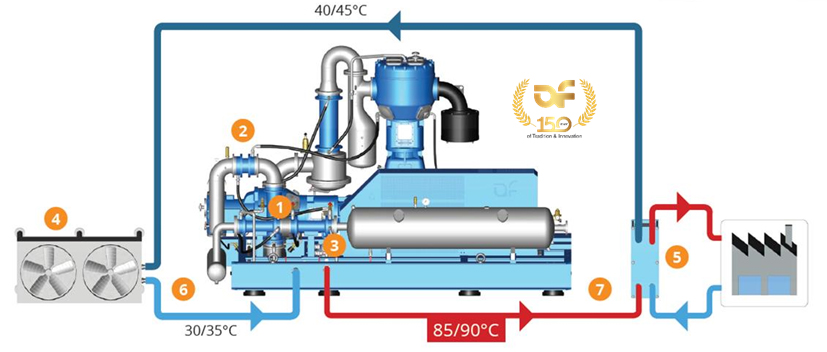 OPC200 2 stage compressor
3 stage compressor (20-40 bar), 2 stage compressor (6-15 bar).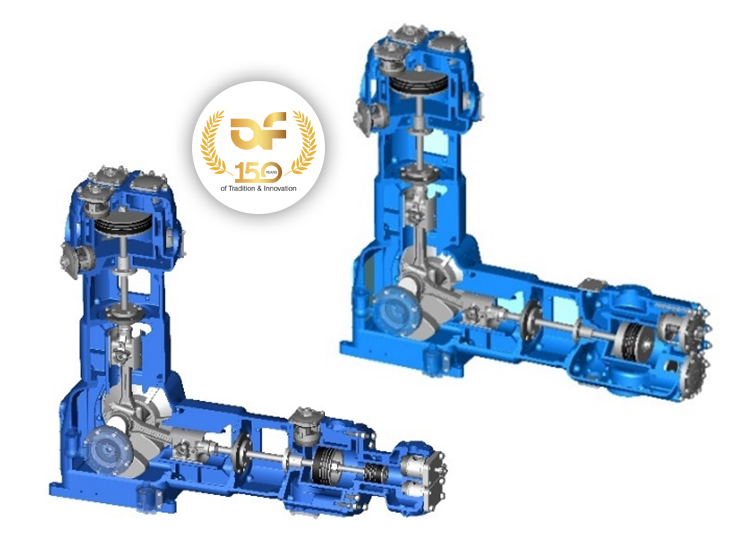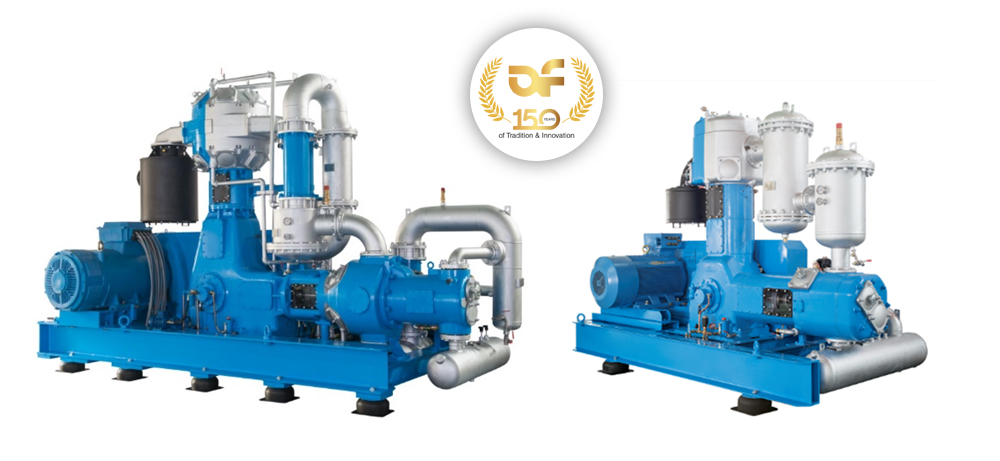 2005-2010
CE 68 models, oil free PET compressors,
AF develops its aftermarket service with many subsidiaries such AF Turkey, AF Middle-East, AF Kunshan, among many others… AF expands a product range for lower pressure applications to include two-stage, oil free piston compressors dedicated to the food and beverage industry.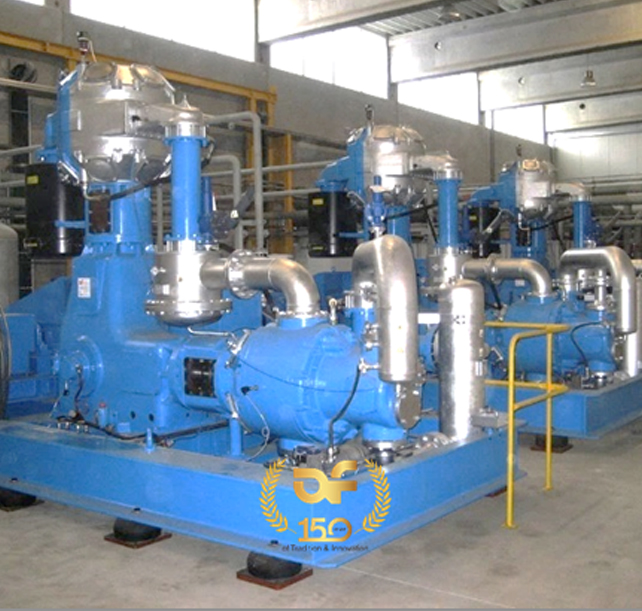 1990- 2000
AF becomes the leading supplier and specialist for the high-pressure oil free compressor PET market and starts to provide the main blow molding manufacturers with 40 bar compressors on a regular basis and become key supplier to most of them. . The development of AF's worldwide business continues through the 2000's ; AF Rus, in Moskow, AF Mexico, AF Nord Afrique Tunisia, AF Shanghai…
Late 1990's design for AF brochure.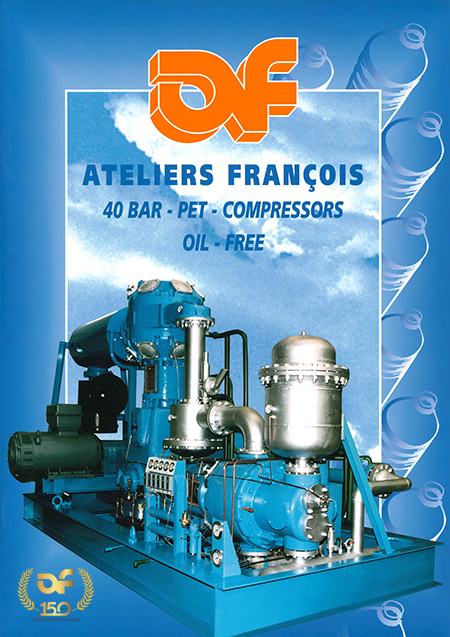 Oil free piston air compressor,
Model CE24, 40 bar, 75 kW, 1998.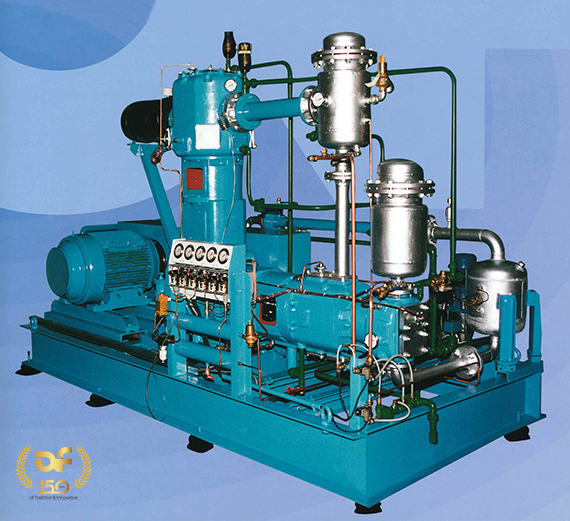 Early 1990's design for AF brochure.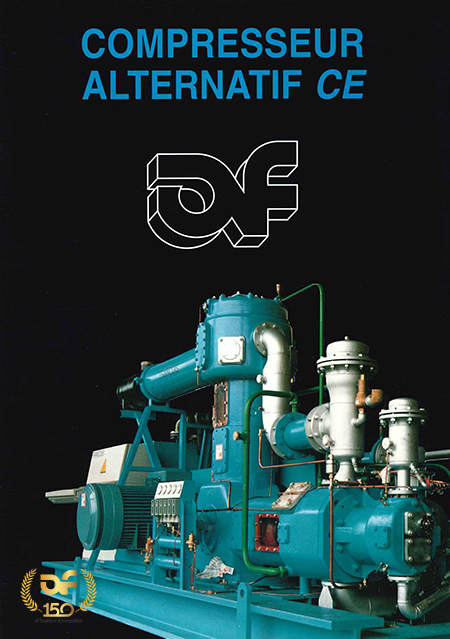 1980-1990
During the early 1980's the first 40 bar oil free reciprocating air compressors were manufactured for blowing PET plastic bottles. The development of AF's worldwide business continues through the 1990's, with the opening of AF USA Inc. in Atlanta GA. To service the Americas, AF Asia in Bangkok to cover the Far East in addition to subsidiaries in Europe, in France and the Netherlands.
From on 1985, AF will exclusively produce oil free reciprocating compressors in the range of air compressors.
These AF oil free piston compressors are used with the PET blow molding machines. AF begins manufacturing oil free PET compressors in an industrial way to successfully penetrate the emerging PET bottle market. AF is providing its first PET compressors to the major mineral water and soft-drink producers… and also to the major blow molding manufacturers…
M series, nitrogen booster.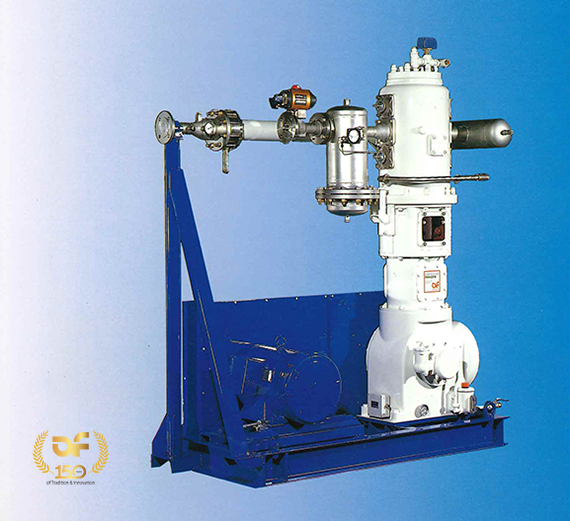 Mid 1980's design for AF brochure.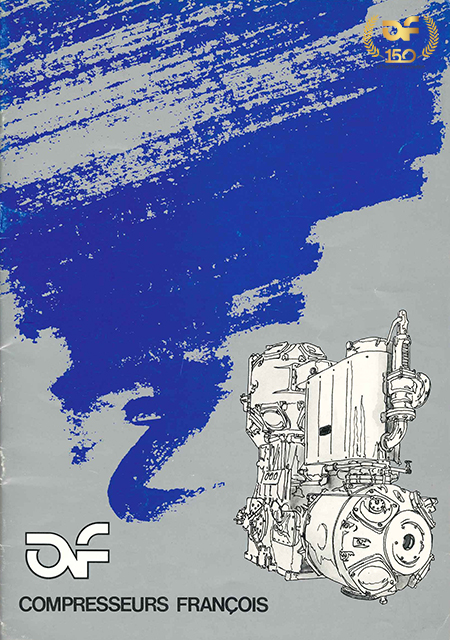 Early 1980's design for AF brochure.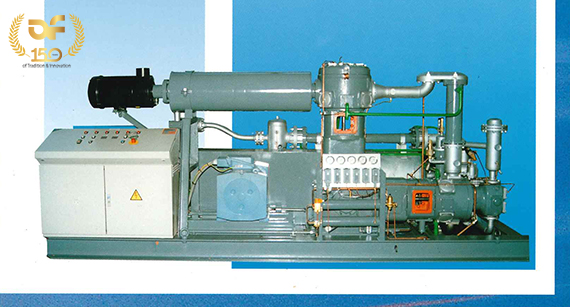 1970
Pure 1970's stylish design for AF brochures,
prefiguring orange and blue colors?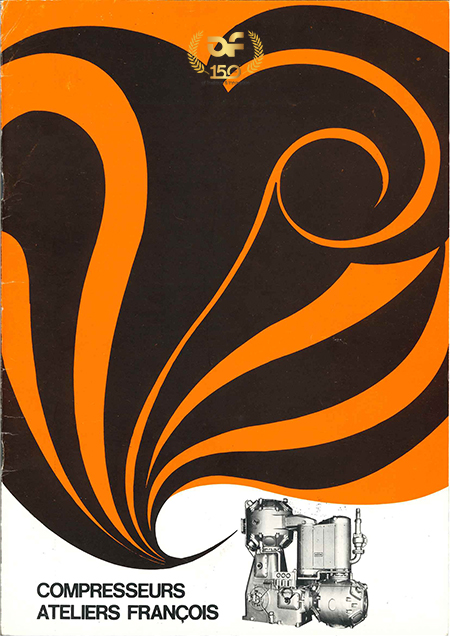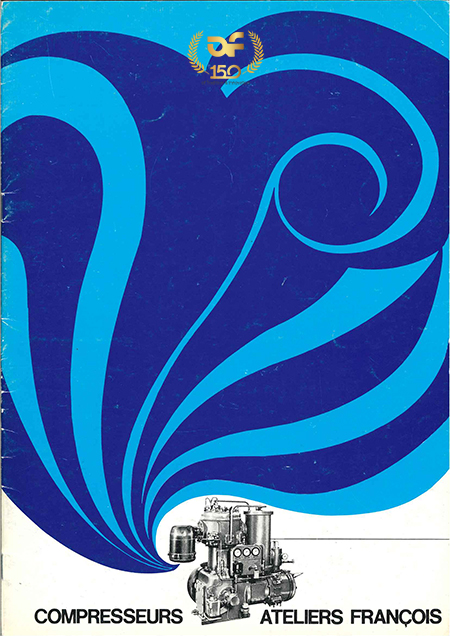 Two stages lubricated reciprocating compressor, circa 1975.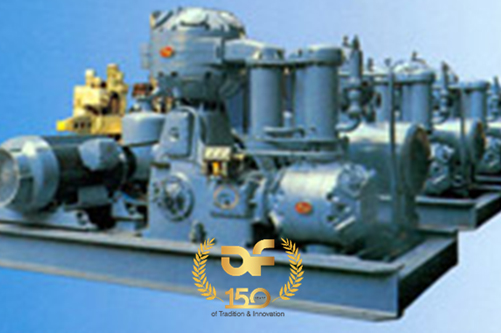 1960
"Ateliers François S.A." is founded in 1960 with a strong emphasis on creating worldwide business for its products and services.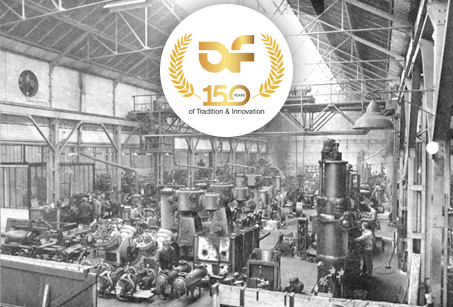 Oil free reciprocating compressors with PTFE piston rings were developed in the end of the 1960's, these are successfully operated in the breweries, glass, and food industries, but also in the chemical, petrochemical and metal processing industries.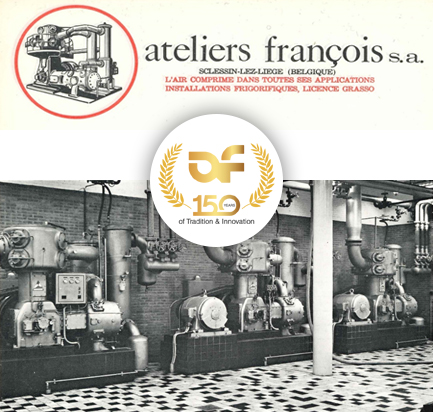 1950
Coalmine Petit-Try, Lambusart, Charleroi region, Belgium. Compressor CE 10, Ateliers François.
The range of compressors produced in Liège for the coal industry reaches powers of 1,000 hp.
In the early 1930's, the company is re-formed under the name "Moteurs & François Réunis". In the next 2 decades, AF manufactures reciprocating compressors for the coal and steel industries. In autumn 1944, during WWII, the factory is heavily damaged by bombings.
The facilities are restored and, totally rebuilt. The compressor production activities can go on…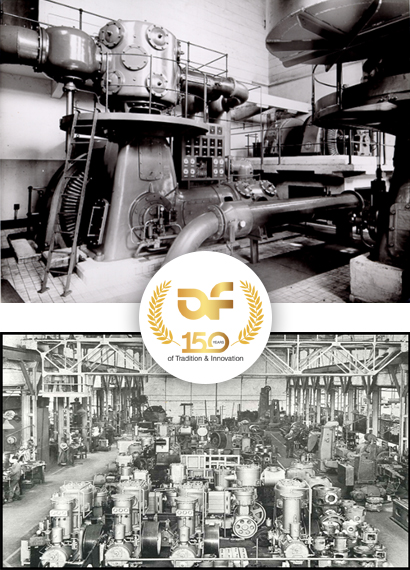 1940-1945
Surviving war dammages and rebuilding for the future. In summer 1944, the factory is heavily bombed by the allied airforce in order to destabilized the german occupation.
The company facilities will totally be ruined. It all will be restored and rebuilt for future activities.
Destroyed factory in 1944,
rue Côte d'Or in Sclessin-lez-Liége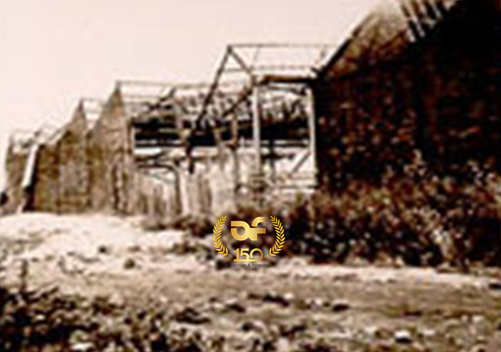 Same place,
60 years later, in 2004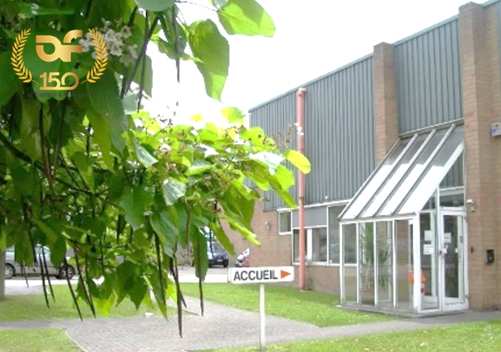 1920-1940
The company is successfully active in the production, installation and maintenance of medium pressure compressed air two stages, reciprocating compressor for the coalmine industry.
A state of the art compressor room ca. 1935.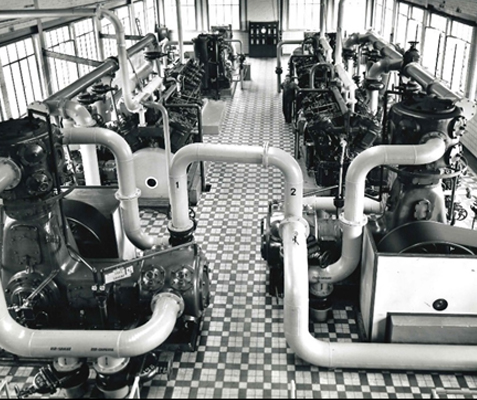 1935. Brussels universal and international exhibition. Certification of participation.
Document Ateliers François.S.A.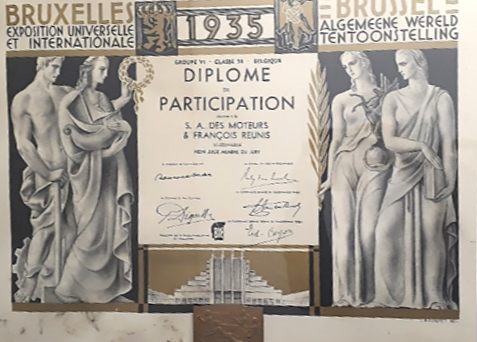 1910
In the early 1900's, the company started manufacturing reciprocating compressors for the coal industry…
1910. Brussels Universal Exhibition. Gold medal diploma for Etablissements Albert François.
Document Ateliers François S.A.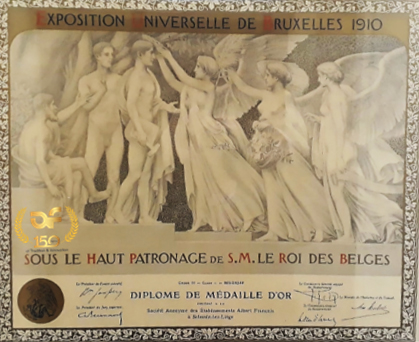 Horizontal 2-stage double acting compressors with asynchrony & synchrony motor. ca. 1900.
Document Ateliers François S.A.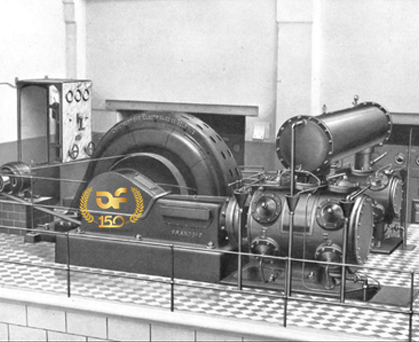 1890
In 1896, the company "Moteurs" is established to build high-speed steam engines. At that time Mr. Zénobe Gramme, (inhabitant of Liège) invents the first DC dynamo, steam engine industry almost over…
1870
AF Compressors. Etablissements François S.A. a privately owned company is formed in Liège, Belgium to produce pneumatic hammers for the mining industry, i.e. for use in the construction of tunnels and galleries for coalmines.
Single stage, single cylinder horizontal air compressor, powered by steam engine (before 1890) produced by Etablissements François.
Document Ateliers François S.A.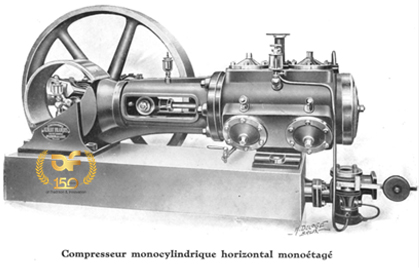 Original cast iron name plate of a"François compressor", 19th century production.
Document Ateliers François S.A.