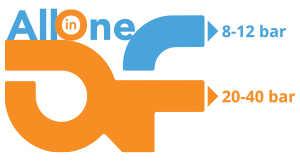 ONE COMPRESSOR SYSTEM SIMULTANESOUSLY MAKES
HIGH PRESSURE AIR 20-40 bar + LOW PRESSURE AIR 8-12 bar.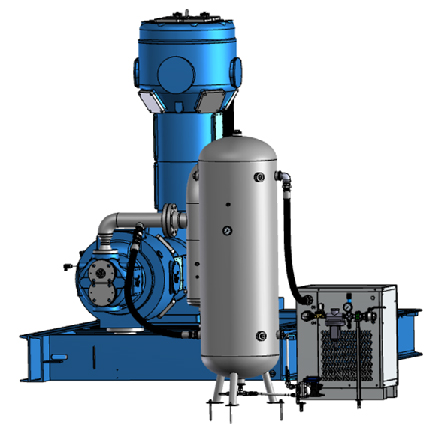 INTERNATIONAL PATENT (2015).
ALL in ONE  BENEFITS :
Reduces CAPEX : capital expenses
Reduces OPEX : operational expenses
Reduces Structure and Capacity costs ( space, logistics, fixed costs,…)
Sustainable for decades
AF ALL in One System  is  simply adaptable to your high pressure air and low pressure air exact requirements.
ALL in ONE  FEATURES :
AF PLC controls stages 1 & 2 independently from stage 3
Stage 1 & 2 = compressor 8-12 bar
Stage 3 = booster 20-40 bar
LP air supplied by AF All in 1 replaces entirely a separate LP oil free compressor
LP volume from 100 to … m3/h
All in One  by  AF COMPRESSORS is  a compressed air system protected by an international patent  (2015).