Optimum design, L shape,
oil free 8 bar & 10 bar (6-15 bar)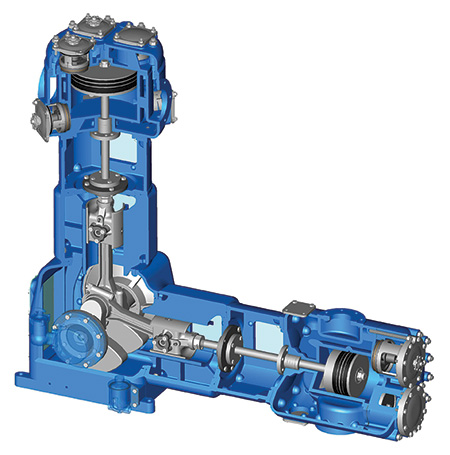 AF Piston Compressors: Simple and Robust
DESIGNED FOR LONG LIFE and RELIABILITY
Piston Rods are made of a high resilient stainless steel and chromium plated to provide a hard wearing surface.
Cross heads
The ratio between the connecting rod length and crank radius (nearly 5) and the large pressure lubricated area of the crosshead and guides ensures optimum life.
Connecting rods
The white metal connecting rod main bearings are inherently long life items.
All bearings are pressure Lubricated by a gear driven pump.
Crankshaft
Is supported by two self-aligning bearings having two rows of generously dimensioned rollers to ensure perfect alignment.
Counterweights attached to the crankshaft provide excellent balance. Rotational speeds range between only 400 and 750 rpm.
Energy, performance and operating costs : Piston is still the best !
Features
Simplistic design as the ' 3 stage,40 bar PET AF compressor', in this case 2 stage, oil free, Robustness, long-lasting efficiency.
Slow speed, fewer parts, less wear, long lasting and reliable technology.
Benefits
BEST ENERGY Efficiency vs. SCREW UNITS !
Direct money savings. Low costs for maintenance, Lower. Energy Consumption short and long term pay back.
EASY and SIMPLE Mechanics to Maintain
Rapid Return on Investment.
Long lasting performance and low cost use compared to other systems.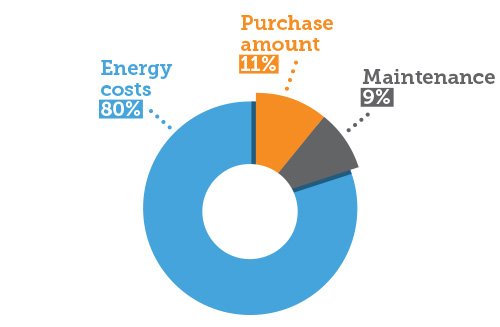 Total life cycle calculated on a 10 year operation.