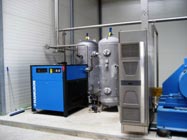 Stainless steel refrigerated 40 bar air dryer
with the plate heat exchanger, moisture separator, interconnecting piping and flanges, all made from stainless steel to prevent corrosion. Refrigerant gas is ozone friendly R134a or R404a.
Dust pre-filter providing 1 micron filtration and integrated in the air dryer.
Dew Point Alarm -option- displayed on compressor control panel and on dryer unit to help maintain the quality and security of the air supplied for blow moulding.
Condenser
is air cooled, but water-cooling is available on request for hot areas over 40°C.
Coolant compressor is fully hermetically sealed with current and thermal overload protection.
Pressure dew point is 3°C
with 35°C compressed air inlet temperature.